The RA Series comprises our most powerful LED Grow Lights for professional horticulture. The lights deliver a PPFD that is up to twice as high at the same distance, while consuming half as much energy, compared to HPS lights. The high light intensity and effective wavelength combination can help you to increase your production output.
The RA Series has been developed for greenhouses and climate chambers and can be used for all phases of growing. The lights can be equipped with different combinations of LEDs, to provide the right light spectrum for your application. The RA Series can be controlled using a dimmer. The light intensity can be dimmed in groups or individually. A wireless control system is also available..
Brochure - RA active cool series - 2016 (4.5M)
Model RA-250 AC, RA-350 AC, RA-700 AC
LED Grow Light / RA Series Active cooling
Professional Greenhouse Light, HPS Replacement
► Replacement for HPS – 1:1 replacement for 200W, 400W, 600W, 1000W HPS
► Innovative energy saving – High performance with low consumption of energy
(52% of energy consumption compared to HPS)
► High productivity – Effective wavelength boost production over 20%.
► Wide application – It provides light which suits general plants such as Lettuce, Herb, Tomato and Paprika.
► General purpose – It can be used for both Growth and Flowering phase.
► Highly effective heat sink - All aluminum fixture, Active cooling
► Special glass lens – It maintains the quality of light after long time use.
► Easy installation – Built in SMPS, Power cable with connection jack
► Dimming control – It supports dimming control(individual/group).
► Wireless control (Option)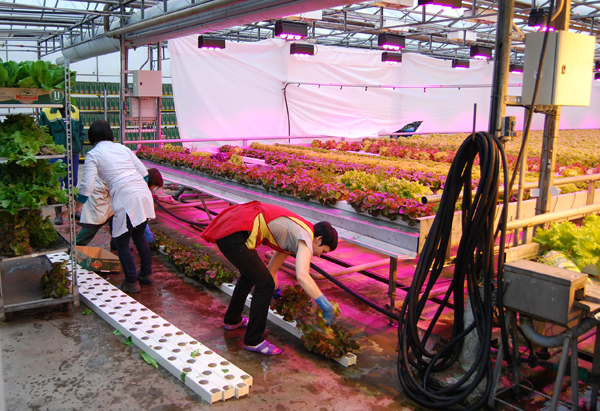 Brochure - RA active cool series - 2016 (4.5M)
Model RA-150 AC, RA-250 AC, RA-350 AC, RA-700 AC